Get Free Busines and Life Tips Delivered to Your
Email Inbox Every Wednesday
As a BONUS Get Cassie's 10 Step Blueprint to Get Biz Savvy, Visible, and Wealthy as well as Cassie's Wealth Mantra
absolutely Free ($197 Value).
5 Reasons Why You Aren't Making the Sale
By Business and Life Advice | November 20, 2013 at 04:08 PM EST |
No Comments
Hello Biz Hottie!
Welcome to all of you beautiful new subscribers! We've had 300+ new subscribers over the past couple of weeks. It's so exciting to welcome all of you on your adventure of building sexy, spiritual, and wealthy International businesses.



5 Important Reasons Your Tribe Ain't Buying
In todays Article I'm sharing the answer to one of the questions I get asked all the time. "Cassie I have a HOT product or service but people just aren't BUYING it... What am I doing wrong?" The answer to the question can feel a little complex but I'm going to break it down for you here:

Reason #1: You Don't Know Who You are Selling to or You Don't Speak Their Language.
Before you can sell ANYTHING to ANYONE you must understand exactly WHO you are serving. Are you serving business owners, women, men, what age, etc...
Once you have the answer to that question you need to understand what the biggest STRUGGLE is for them.
Once you know them and have identified their struggles then you can design an offer that provides a SOLUTION to their problem.

Reason #2: You don't have a RAVING fan base.
When it comes to doing business (especially online business) you've got to BUILD your following. It's so crazy because I hear people all the time quoting field of dreams! "If You Build It They Will Come." EH well sort of. You actually have to build out EVERY PHASE of your business including your following.

Reason #3: You Are Afraid to Get Visible!
If your clients can't find you they simply cannot buy from you. Are you avoiding going to networking events, pitching to media outlets, or creating videos?

Reason #4: You Don't Have a Marketing Plan
Your products or services might be the absolute best on the block but people are EASILY distracted. You MUST have an ANNUAL Marketing plan that is super HOT and speaks directly to your ideal client!

Reason #5: You Aren't Making an Offer When You Have an Audience
Many heart centered Biz HOTTIES are afraid of seeming salesy or pushy so they don't actually make an offer when they are in front of their Ideal client. Here's the thing though your clients cannot buy from you if they don't know what you are selling.


The really great news is that if you have been making some of these newbie mistakes you can now create a NEW inspired plan of action. If you need support to get your clients to hit that buy button there is still time to enroll in 5 Weeks to Build Your Sexy Spiritual and Wealthy Business. Hurry as there are only a few spaces left and enrollment closes On November 20th. You won't be able to get this program again until next year! This year I've made over $85,000 and at the beginning of the year I had NO IDEA how I could make more than $1,000 per month. If I can do it so can you and it's YOUR TIME. Click the image below for more info or to REGISTER NOW: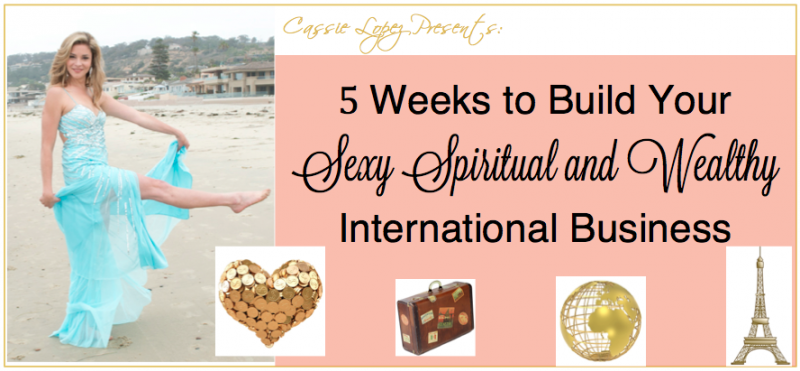 Namaste Love,
Tomorrow I will be speaking at the Bare It All Tele-summit with Host Sazzu Hope. I'm sharing with you my secret tips of how to PLAY Your Way to 5 Figure Days. Be sure to register and listen in! It's available at absolutely no cost to you! http://www.fullyvibrant.com/bareitalltelesummit/
About Cassie:
Cassie Lopez is an International Business and Lifestyle Mentor. She is the creator of the Smart & Savvy Business Academy, Live Your Vision Board Life Now and Live Your Money Vision Now 5 week courses, The Intuitive Coaches Certification Program, and The Love Your Body Through Prenatal Yoga dvd. She specializes in assisting women with millionaire visions to create, market, and fill their high-end programs so they can make great money, do what they love, & have more time.
Cassie transformed her own life and business using her signature Intuitive Coaching system. She graduated Magna Cum Laude in Psychology and Classical Guitar. In her business Cassie went from making $600-$1000 per month to making $21,000 in just 6 weeks.
Cassie has studied leadership and business from world experts like John Maxwell, Patch Adams, James Carville, and many others. When she was 19, Cassie traveled around the US and Canada giving motivational school assemblies for kids k-12th grade. Cassie Lopez has been featured as the Yoga model for several websites including www.monkeygus.com, www.weareyogaslc.com, and www.davelabrumphotography.com. To find out more information about Cassie Lopez visit her on the web at www.cassielopez.com.
Including an Exclusive Behind the Scenes Peek into a

Private In Home Photo Shoot With Cassie Lopez.